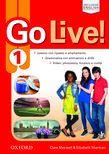 Find information on print and digital English language teaching and learning resources - everything for pre-school children to adults. Download extra practice activities and ideas for your class ...
https://elt.oup.com/student/golive/?cc=it&selLanguage=it&mode=hub
La nostra casa editrice ci supporta con tutto il materiale audio e video online. Approfittiamo di questa opportunità, a completamento delle attività assegnate su RE e delle video lezioni via-Skype!